Glenn A. Davison, DPM, FACFAS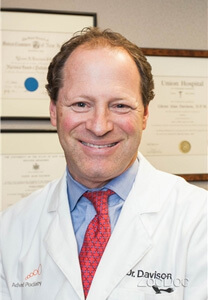 Dr. Davison graduated with his degree in Podiatric medicine in 1990 and completed a Podiatric surgical residency at Union Hospital, of the St. Barnabas Health care system of New Jersey. He is board certified by the American Board of Podiatric Surgery and is a Fellow of the American College of Foot and Ankle Surgeons. Dr. Davison has published numerous articles on foot health related topics in scientific journals and authored a chapter in the wound care text book, Modern Wound Management. In addition, he has published articles in local newspapers, provided various television and radio interviews, and often lectures to the medical community.
Dr. Davison has been active serving the podiatric community as a past president of the eastern division of the New Jersey Podiatric Medical Society where he helped institute the Shoes for the Homeless program, which is still helping thousands of people today. He served as clinical director of the Foot Care Program at the Family Health Care Center of Union Hospital, and assistant director to the surgical residency program there as well.
Dr. Davison has been a provider of medical and surgical podiatric foot care for over 20 years. He is certified to administer Hyperbaric Oxygen therapy for treatment of chronic non-healing wounds. He is also certified in ESWT (Extracorporeal Shock Wave Therapy) to treat heel pain. He is trained in the use of arthroscopic surgical technique for the foot and ankle, and use of PRP (Platelet Rich Plasma) for healing of tendon and soft tissue injuries.
Zachary T. Hart, DPM
Education and Training
Dr. Zachary T. Hart D.P.M. originates from Rhode Island where he attended Providence College. He then went on to receive his Doctorate in Podiatric Medicine (D.P.M.) from The Ohio College of Podiatric Medicine in Independence, Ohio, which is now affiliated with Kent State University. At his medical school, a significant portion of his training was at The Cleveland Clinic. He then completed a three-year surgical and hospital-based residency at St. Barnabas Medical Center in Livingston, NJ. Dr. Hart was elected to serve as chief resident during his final year of residency. He was also awarded The "Mahmood Cheema Award" which is given to the resident who best demonstrates excellence in surgical skills and patient care. Dr. Hart was trained under more than 75 physicians including podiatric, orthopedic, and plastic surgeons. This residency encompassed all aspects of podiatric medicine and surgery. During his residency, Dr. Hart also received training in trauma, internal medicine, infectious diseases, emergency medicine, vascular surgery, radiology, plastic surgery, pediatrics, and wound care.
Professional Interest
Dr. Hart provides a valuable service to Union County. He is integrated in the community and provides a wide range of podiatric treatment including: conservative and surgical treatment of the foot and ankle; treatment of plantar fasciitis and related conditions; bunion and hammertoe surgery; foot and ankle reconstruction and revision; podiatric sports medicine; comprehensive wound care; and diabetic foot care. Dr. Hart is on staff at both St. Barnabas Medical Center in Livingston, NJ and Trinitas Medical Center in Elizabeth, NJ. He teaches and trains the residents at both hospital locations while staying current with advances in the podiatric and medical field. Dr. Hart is on staff at the St. Barnabas Wound Care Center where he has access to the most innovative and state-of-the-art wound care products. Although Dr. Hart has received the highest surgical training, he is dedicated to exhausting all conservative measures before considering surgical intervention.